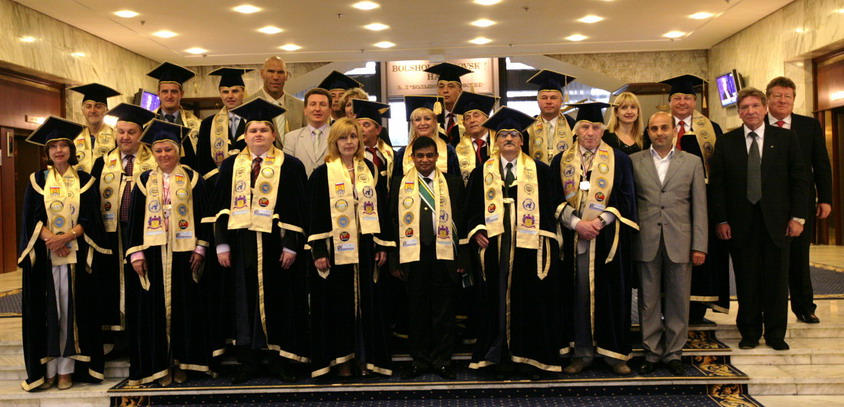 Fields of Studies at IHAC…Download [PDF]
Regulation of the IHAC
 In the system of scientific research and pedagogical activities of IUFS are depending on Intergovernmental Higher Academic Council (IHAC) and International Higher Examination Council (IHEC).  IUFS is Government registered non-profit making university (under St.Petersburg in 1998 and 2015 in Moscow State Registration and under licenced State Committee of Science and Higher Education). IUFS accredited by the  Oxford Educational Network and  California University FCE . IUFS has membership of   United Nations Global Compacts other accrediting bodies. IHAC IUFS approves / asserts doctors', PhD candidates and Masters'  dissertations successfully submitted  to the IHAC/IHEC of IUFS, and awards on  academic statuses (the professorship,  full professorship).
The scientific degree of the  Masters (MA, MSc) , Doctor of Philosophy (PhD) , Doctor of Science (D.Sc) and  Grand Doctor of Philosophy (Grand PhD ) is awarded on the following sciences:
Psychological, physical and mathematical, chemical, biological, technical, economical, jurisprudence/ legal, medical/bio-medical, philological, pedagogical, art /culture criticism, business – administration , Humanities, Politics etc…Academic statuses of the professorship and the full professorship are awarded on the same majors.
Competitors of a scientific degree and academic status can be citizens of Russia and foreign countries.
The scientists who have received a degree of the Doctor of Science , the PhD  and the Master of Science in IUFS can get degree evaluation or Degree verification ( attestation) in the other country recognizing bodies of IHAC/IHEC IUFS .Scientific degrees and the qualifications  received by IUFS, admit as conducting High schools of the world
The list of documents represented to dissertational board of IUFS at defend of the dissertation thesis
According to the Regulations about the order of award of qualifications of the PhD/Master Degrees at IUFS ( International University of Fundamental Studies)  the authorized decision to rector of  IUFS  in dissertational council  represent the following documents.
The application of the competitor addressed to the chairman of dissertational council with the instruction of  scientific degree and thesis for which it applies, and areas of study according to the Nomenclature of areas of specialization of science officers IHAC IUFS.
The filled registration /Application form of science officer IUFS with a photo
A copy of the document on the Higher Educational Qualifications and  training
The dissertation ( Thesis and thesis report – book and electronic CD)A response of the opponent
If necessary under the decision of the competitor on protection breadboard models, samples of products, posters, drawings, circuits slides etc. demonstrative materials are represented.
Members of the IHAC/IHEC IUFS (MVAK MUFO) :          
Shanti P. Jayasekara  (Chairman), Iezueitov A.N (Deputy Chair) , M.N.Avvakumov,  N.P.Kovalenko,V.I. Kasatkin,  V.V.Lukojanov, N.I.Maikova, O.N.Sorokin, V.P.Chashin, Shirjaev G.V,  Valdas Juknevichus, Turin V.I, Galtsev Yu., Soldatenko Yu., Kuzmina N., Abaev S. , Drobrovina L. , Sisira K. Jayasekara,  Zia MohammadRamin,  Borovkov E., Barabash I.,Katanski S.e. Deric Bircham, Eugenio Caligiuri,  Burov,N.A.  Badmaev, Dubovskiy L., Balasuriya M, Buzov E, Afanasyev V, Marcel Valentin, Agop Kerkiascharian, Jean-Marie Coudres, Subetto A.I., Kuris Irina, Coshurko A.N., Belastotskaya M., Bondarenko V.G., Trahktentberg G.E., Moiseev S.e. Leonov B.I., Vikulov M.Y., Bresso T.I., Stepanian A., Zadra M.